Being born in Greece may not make you Greek
A native Greek speaker and the star of a popular Greek music video to boot, Athina Bontigao – daughter of Filipino immigrants – is fighting for citizenship, along with thousands like her.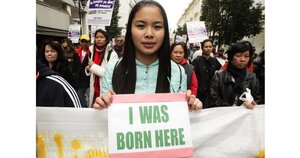 Louisa Gouliamaki
When Athina Bontigao walks down the streets of this city of her birth, most Greeks don't see a compatriot, they see a foreigner, a xenos. Sometimes, especially lately, police stop her and ask to see her papers. On the bus, she hears old ladies complain about "all these dirty foreigners" coming to their country. They're looking at her.
Ms. Bontigao has lived all her 18 years in Athens, but she has an Asian face and Filipino parents. And although she carries the name of a Greek goddess – the patron deity of this ancient city – as far as the state is concerned, she's still a migrant, just temporarily passing through.
But that's not how Bontigao sees herself.
"Inside me, it's like everything is Greek," she says. "Greek is my first language. I know the culture here, the history. I know everything." She shrugs, adding with frustration: "I don't even know the history of the Philippines."
In her neighborhood school, Bontigao was the only non-Greek. She recently starred in a Greek music video by her favorite singer, but didn't learn to speak Tagalog, her parents' mother tongue, until she was a teenager. She prefers souvlakia – Greek grilled meat – to her mother's Filipino cooking.
"Like, Filipino food, it's just rice, rice, rice," she says with a giggle. She's only been to the Philippines a few times and never spent more than a month there – the smells, the crowds, the lack of privacy, she says, all feel foreign to her.
But the only passport Bontigao carries, and the only country she has permanent right to live in, is the Philippines.
---