Ken Mink plays college basketball ... at age 73
The community college player from Knoxville, Tenn., defies stereotypes to become what may be the oldest college shooting guard in the world.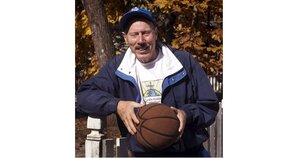 Carmen K. Sisson
The gray Cape Cod is easy to overlook on this quiet street in Knoxville, Tenn. No team pennants hang in the windows, no collegiate flags wave in the breeze. The parlor is surprisingly devoid of sports paraphernalia as well.
Paintings adorn the walls, and an eclectic mixture of books lines the bookshelves. There's a mounted bass above the fireplace, and a cowhide rug covers the floor. If you ask, Ken Mink will show you the modest display of basketball medals he's received. Otherwise, he won't mention them at all.
This isn't your typical college athlete's home, but then, Mr. Mink isn't your average basketball player. He's climbed the Matterhorn. Parasailed over the Caribbean. Water-skied in Jamaica. And this fall, at age 73, he became what may be the world's oldest college basketball player, joining Roane State Community College as a shooting guard and shattering stereotypes in a sport where youth is everything and players over the age of 25 are anomalies.
But Mink's not looking to break records. He says he's seeking redemption, attempting to fulfill a dream he'd abandoned and forgive a betrayal he can't forget.
---