The saga of a runaway elephant bull
It was a harrowing scramble to save man and beast when G5, a seven-ton elephant bull, escaped a Mozambique national park.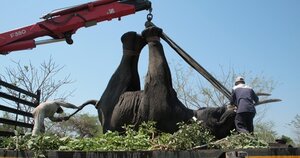 Stephanie Hanes
Gorongosa National Park, Mozambique
Gorongosa National Park, Mozambique
The elephant arrived in September with an entourage. There were veterinarians, rangers, transport trucks, and even a film crew to document the historical moment – the reintroduction of big tuskers to what was once the most animal-rich spot in Africa, Mozambique's Gorongosa National Park.
After his 700-mile truck journey from South Africa, which had donated the animal and five others, the elephant was immobilized and fitted with a satellite collar by Gorongosa's head of conservation, Carlos Lopes Pereira. The collar's frequency, and hence the bull's name, was G5.
Soon, G5 was hoisting his seven tons back onto his massive feet and walking into the bush.
G5 mingled with Gorongosa's small herd of tuskless elephants for a few days, grazing his way through the palm and thorn trees.
But two weeks later, something happened. Maybe he was distressed by the fires – set by poachers – that swept through part of the park after he arrived. Or maybe an ornery matriarch chased him away. When Mr. Pereira checked G5's satellite feed, he realized the bull was gone – he'd left the park, and seemed to be heading back to South Africa, a route filled with roads, railway lines, and tens of thousands of people. His life, and those of villagers in his path, were in danger.
"This," Pereira said, "could be a disaster."
• • •
---