My encounter with actor Kiefer Sutherland at the airport
I approach the actor with stealth, as befits the star of the TV series, '24.'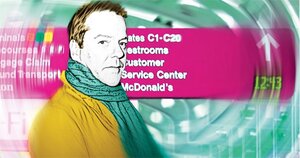 Photo illustration by Scott Wallace/Staff; Photo by Colin Drummond/Newscom
(The following takes place between 13:05 and 13:29. The events occur in real time.)
13:05 Jack Bauer of "24" fame (aka Kiefer Sutherland) stands at the ticket counter of Air Canada, scrutinizing the airport for possible tourist terrorists. Toronto's Pearson International Airport has a Canadian calmness. Yet federal agent Bauer has been part of too many covert operations not to know that the calm comes before the dirty bomb. Ready for action, he looks over his shoulder, checking his blind spot. No one stands directly behind him. He notices a woman out of the corner of his eye who has stopped suddenly, almost colliding with her carry-on bag. She looks klutzy.
I spy Kiefer across the room. He looks like a bush pilot. He is wearing a sage green scarf flung around his neck, contrasting smartly with his tan suede jacket. The scarf makes him stand out. If it is Kiefer, wouldn't he want to be incognito? Wouldn't he wear dark sunglasses and a fedora? All his fan blogs say it's rare to see him in real life. Must not be him.
13:07 Bauer cautiously takes note of the klutzy woman's stare, but she doesn't approach. The panic passes. He relaxes.
I line up dutifully at Immigration with the other Canadians. The mystery man stands in the American line a short distance away. This time the guys behind me confirm his identity. His name ricochets from one end of the line to the other. People pull out cellphones like they're drawing pistols. "Guess who's at the airport with me?" echoes everywhere.
13:10 As he slings his garment bag over his shoulder, Bauer is confident he will be able to get on his flight without being attacked.
---