'Everybody's Kitchen' delivers meals in Louisiana bayou country
Volunteers with the charity group use converted school buses to prepare food for the needy – currently in a part of Louisiana still reeling from hurricane damage.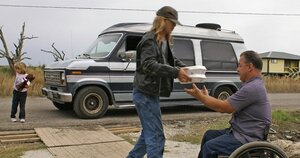 Bill Sasser
In the small fishing villages southwest of New Orleans, the holidays will still be celebrated this season. But for many residents whose lives have been upended by four hurricanes in the past three years, just getting back to work and sleeping under their own roofs is a struggle that leaves time for little else. Enter "Floppy" and his rolling lunch counter.
"They got hit twice in September, first Gustav then Ike, so it takes awhile to get straightened out," says the easygoing guy behind the wheel of an old Chevy van, a long way from his hometown of Detroit. A founder of a free kitchen operating from two converted school buses, he usually goes by "Floppy," but, when pressed, confesses that his name is Jim Land.
With a blond mane hanging past his shoulders topped by an ever-present Tigers cap, he has been on the road for most of the past 15 years offering free meals wherever Everybody's Kitchen – a roving canteen on wheels – finds a need.
"When you and all your extended family had eight feet of water in your houses and you're spending all your free time sheet-rocking, the last thing you have time to do is cook and clean up," he says, waving at a passing vehicle on the narrow two-lane state road. The driver of the pickup truck gestures back. It's a meeting of Cajun culture and a do-good counterculture that might seem improbable here in clannish, self-reliant bayou country.
But in Pointe-aux-Chenes and some other small towns, the shaggy outside idealists and the pragmatic local shrimpers have formed a strong bond in a period of great need.
"What they're doing here is real good – a big help," says Chris Brunet, a frequent recipient of the group's food who had to evacuate his house for 39 days after hurricane Gustav.
---