Tending to topiaries
How to care for an indoor topiary.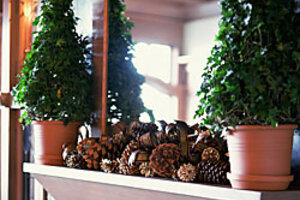 Newscom
When we think about "decking the halls" for the holiday season, most of us envision traditional greenery such as boughs of holly, evergreen wreaths, and fragrant firs or pine trees. But in recent years, herb ornamentals and topiaries have become bright new stars in the holiday decorating lineup.
Now that December has arrived, you'll be seeing them everywhere from grocery stores to upscale catalogs. And it's difficult to resist fragrant rosemary shaped like a mini Christmas tree. Or a lavender "lollipop" standard (a shrub or herb grown with an erect main stem so it resembles a tree). Or an ivy wreath. Or a moss-stuffed, bunny-shaped frame covered with creeping fig.
The problem is, not many of us can keep these appealing plants alive long enough to ring in the New Year. According to experts, topiaries and other ornamentals are often doomed from the moment they arrive in the mail or come home from the store.
"It's important to check for dryness as soon as you get the plant," says Barb Pierson, nursery manager of White Flower Farm in Litchfield, Conn. "Stick your finger into the first inch of soil to see if it is wet or dry. Better yet, pop the plant out of its pot and examine the roots for moisture. You'll find most of them will be fairly dried out."
It's easy to understand why. It can take more than a year to get a rosemary or lavender large enough to prune. By that time, they are probably pot-bound and will get thirsty quickly. Water the new plant thoroughly without drowning it, then check daily to see if the surface of the soil is dry. Most plants need a drink at least every three days. If you notice that the soil has pulled away from the pot's edge, it needs water, pronto.
Ivy topiaries and other plants growing on frames stuffed with sphagnum moss also need to be watered regularly. In fact, if they are allowed to dry out to the point of wilting, they probably won't bounce back.
Immerse a new, stuffed topiary in a tub or large bucket of water and hold it there until the water stops bubbling. Then move it to a waterproof spot until it stops dripping. Finally, place it on a piece of clear plastic where you want it to grow.
---