Matchbox museum offers small view of big history
A Thai boy's fascination with collecting the tiny art on matchboxes grew into a 70-year passion now open to the public.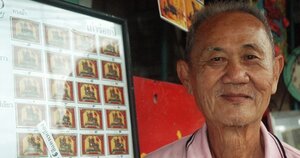 Tibor Krausz
Bangkok, Thailand
In the late 1930s, inspired by his father's friends trading old coins and other collectibles, the 10-year-old son of a Chinese gold dealer in the northern Thai town of Nakhon Sawan took a shine to a used matchbox.
Its stamp-size label, produced by a local match mill, showed the 19th century monarch, King Chulalongkorn, astride a white stallion. The image was modeled on the venerated king's 1908 equestrian statue, an object many Thais still regard as sacred. The boy was charmed by his find.
"I thought it was beautiful," remembers Chuan Sunthranan, now an octogenarian. A box of matches then cost just a satang (1 cent), he notes, so they were "cheap and easier to collect than stamps, which other boys like to collect."
As Thailand was being swept up in World War II, the boy began scouring teashops and going door to door in search of used matchboxes, peeling or steaming off labels for his growing collection.
Chuan's boyish zeal never let up for seven decades as he married, inherited his father's shop, raised five children, and relocated to Bangkok – all against the backdrop of Thailand's 15 coups, involvement in the Vietnam War, and bloody crackdowns on pro-democracy movements. Much of that turbulent history is now reflected in his vast collection of matchbox labels – kept in his private "Matchbox Museum."
---
Follow Stories Like This
Get the Monitor stories you care about delivered to your inbox.