One man's quest to improve the lot of fishermen – and fish
Conservationist Crispen Wilson is helping local Indonesians recover after the tsunami, but in a way that doesn't deplete local fish stocks.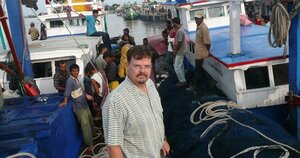 Oakley Brooks
On the new concrete wharf at Lampulo, this city's main fishing port, Crispen Wilson wades through the crowd of men moving their catch on shore from high-prowed wooden boats. It is just after dawn as last night's bounty hits the deck: mackerel almost as long as their barefoot captors, exotic reef fish splashed across wicker baskets, two giant swordfish, tuna of every stripe, and a small circle gathered around something big.
"Here we go," Mr. Wilson says, squeezing into the group. In the middle is a dark tan ray, more than four feet wide from wingtip to wingtip, with giant hoods for eyes and a narrowing tail that curls outside the knot of men. It looks extraterrestrial.
While the fishermen look on, Wilson produces a pair of flat-nosed scissors, clips off a piece of tissue from the gill area, and drops the sliver into a vial of alcohol. Eventually, he'll send it to a Canadian group creating a genetic tree of plants and animals around the world that could aid customs officers in identifying illegally trafficked material – including fish.
Joining these sorts of efforts comes naturally to Wilson, a Missouri native with a goatee and a penchant for T-shirts that say things like "Nigeria's Endangered Primates" or "Conserve Madagascar's Biodiversity." As a conservationist, he's worked with many of the world's governments and largest green organizations to save endangered species and sensitive ecosystems.
But here in Lampulo, Wilson walks among the fishermen as a colleague. They know him because he spends his days working for the traditional local fisheries association, known as the Panglima Laut. In the wake of the Asian tsunami that tore through here four years ago this week, Wilson's helped the Panglima build new digital navigation maps and databases of local fish with the idea of opening up export markets.
---