Evangelists for local food
Even in winter on their Montana ranch, the Sabos eat local, and they encourage others to do the same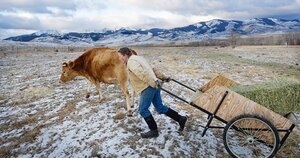 Doug Loneman/Special to The Christian Science Monitor
Bozeman, Mont.
Driving onto the Sabo ranch, I go back and forth between marveling at the backdrop of white-capped mountains and veering to miss the wandering chickens and the dog that's trailing my car. When I pull up, Mark Sabo is standing in the driveway chatting with a moose hunter. I find Jenny Sabo in the kitchen, cooking up breakfast.
As soon as I sit at the kitchen table, food is presented: pork sausage from one of their pigs, flavored with locally grown organic herbs, a thick slice of rich local bread, and a variety of homemade spreads to slather over homemade butter. I wash it all down with a glass of creamy milk fresh from one of their cows.
"We have gourmet flavors every time we sit down for a meal," Mrs. Sabo says, digging into her French toast.
The Sabos – Jenny and Mark and their two boys, Riley, 8, and Kiril, 5 – are extreme locavores. Almost all of their food is produced locally; they purchase only 5 percent commercially at grocery stores. On their 500-acre ranch, 50 miles west of Bozeman, Mont., the Sabos grow many of their own vegetables. They raise free-range chickens for meat and eggs, grass-fed pigs and cows for meat, and other cows for dairy. Mark, an avid hunter, fills their freezer with wild game. What they don't produce themselves, they trade or buy from area farmers.
The Sabos follow other sustainable practices as well. With solar panels on their roof, small windmills, and a wood stove for heat, they're living "off the grid," with no electric bill.
---