A crime paper flourishes by printing mug shots
Isaac Cornetti, aka 'Dash Dangerfield,' finds an audience for 'The Slammer' in North Carolina – a publication that some think provides a public service but others call an unethical crime rag.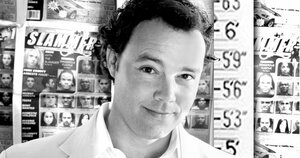 Ashley Lorenz/Courtesy of Isaac W. Cornetti
Looking like a "Goodfellas"-era Ray Liotta, Isaac Cornetti strolls into the Raleigh Times restaurant here in a faded corduroy jacket. He's carrying a stack of his famous – and infamous – tabloid newspaper, The Slammer.
Patrons grab copies. Some chuckle, some hunch over newsprint, and some simply gawk as they scan rows upon rows of mug shots and rap sheets in a frenzy that would spark envy in the hearts of newspaper publishers nationwide.
If "Jerry Springer" came in newsprint, The Slammer could be it – a garish compilation of the week's local crimes and their alleged perpetrators. The men and women, with their dour mugs, bloodied noses, and booze-induced grins, have been arrested for everything from skipping a court date to robbing a food mart. It is, in essence, the local police blotter writ large.
To devoted readers, The Slammer and similar publications – like Cellmates in Florida's Tampa Bay area and Jail in Orlando – perform a valuable public service, putting the gritty side of life on display and even protecting the community from predatory criminals.
---