When college students reinvent the world
Kansas State University professor Michael Wesch's 'World Sim' course – aka Anthropology 204 – helps students create new 'cultures' to get beyond the multiple choices to understanding the 'why' of global affairs.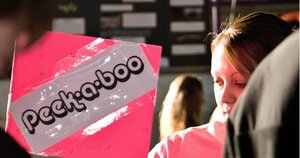 Courtesy of Erinn Barcomb-Peterson/Kansas State University
Manhattan, Kan.
The people of Mekka' kneel in the dirt, sorting pastel cereal loops for their colonizer, the Peek-a-boo nation. "Put each color into [its] own little baggy as quick as possible, and then we will feed you," orders a Peek-a-boo boss clad in a pink Kansas State sweat shirt. Later, Peek-a-boo declares it is killing off the rebellious populations of two other colonies – Bagheera and Phanat Nikhom. "We've been genocided," a dejected victim says as her group leaves its spot in Kansas State University's giant rodeo arena – serving as a mini Planet Earth.
With moments like that, the World Simulation – aka Anthropology 204 – burrows into the hearts and minds of students who otherwise would be choosing A, B, or C on a multiple-choice exam. Cultural anthropology professor Michael Wesch came up with "World Sim" to push students to stop asking, "What's going to be on the test?" and to contemplate bigger questions: Why are some people poor and some rich? How does the world work?
This young professor teaches in ways that reach far beyond the drab, leaky auditorium where hundreds gather for the introductory course. The goal, he says, is to create an environment where students can expand their capacity for empathizing with and loving those who are different from them.
His innovative methods – from the World Sim to researching the YouTube culture with students in a smaller course – recently earned him a US Professor of the Year award from the Carnegie Foundation for the Advancement of Teaching and the Council for Advancement and Support of Education.
---