"Obama: The Musical"
In song and dance, Kenyans see a savior capable of uplift – and visas – in the new US president.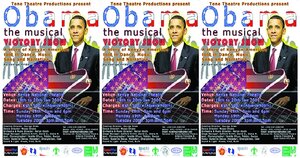 Nairobi
Barack Obama has gone out of his way to begin playing down expectations and distancing himself from the notion that he is some sort of chosen one, put on Earth to deliver a brighter future for all.
Only no one has told his fans in Kenya.
As the cast of "Obama: The Musical" stomp, sing, and salsa their way through their fast-moving stage production at the Kenya National Theatre one thing becomes clear: To Kenya and the rest of Africa the 44th president of the United States is nothing short of a savior.
The sound system hums, the actors stumble over their words, and an overenthusiastic band threatens to drown out the lines altogether. Yet nothing can quite hide the messianic message.
"Unto me, a man from Kenya," says Danson Mateya, playing Mr. Obama's father, "and a woman from Kansas a boy shall be born and his name will be... "
"Barack Obama" comes the slightly tardy response from the audience, crammed into narrow seats that look as if they have been salvaged from a 1960s fleapit.
On stage, the action veers from a Kenyan village to Hawaiian basketball courts and on to the 2004 Democratic convention, where Obama first sprang to prominence.
It is an 80-minute, $7-per-ticket tale of the American Dream, of African poverty, and of hope overcoming adversity – all told through pulsating rhythms and shuffling feet.
---