How pastors are soothing congregants in recessionary times
They search for the right words to express from the pulpit – a balance between compassion and urging worshipers to find deeper meanings.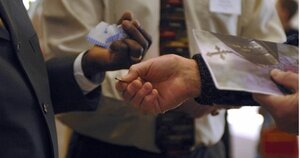 Joanne Ciccarello/The Christian Science Monitor
RAYMOND, N.H.
When the Rev. Kevin McBride opens his office door on a snowy Sunday morning, he's ready to preach a good word for tough times. He walks straight into an anxious crowd of cookie-eating people who could really use some deeper sustenance.
There's Jeff Bean, who was laid off 11 days ago from his manufacturing job and now sells identity-theft prevention tools on commission. There's Ken Archibald, an unemployed contractor. And there's Kim Sparks, a chicken farmer in a purple sweat suit and white T-shirt that proclaims: "My Savior Is Tougher Than Nails."
She's losing money on every egg sale because of the high cost of feed.
"I worry a lot," says Carolyn Matthews, a freelance editor whose retirement portfolio has been "pretty much decimated" in recent months. "But Scripture is full of adversity. And in every story, there's a triumph of this sustaining Spirit."
Pastor McBride of the Raymond Baptist Church couldn't be calmer. A narrow-framed man with a mustache and canary-yellow dress shirt, he smiles and jokes easily. Later, at the lectern, he explains why he's so relaxed: Even when the economy crumbles, God is in control.
"Their attention has been piqued again," McBride says of churchgoers in 2009. "Their eyes and ears are opened up to say, 'Maybe I forgot something. Maybe I haven't been listening as well as I should have been. And maybe it's time to readjust my focus.' "
---