Where imagination meets farming
Local-food pioneer Pete Johnson's movable greenhouses have yielded a lettuce harvest in the dead of a Vermont winter.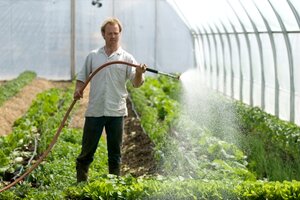 When Pete Johnson, a leader among New England's organic farmers, set out one day last fall to pull an 18,000-pound greenhouse, in fits and starts, over a field-grown plot of lettuce, he inched forward an idea that could help make fresh local produce available year-round, even in Vermont.It was late October. For most of his fellow farmers, harvest time was over until spring. But Mr. Johnson was just revving up his tractor – and his dream.
He wants to extend the growing season into winter, and to start spring crops in late winter, in ground protected temporarily by movable greenhouses. Johnson had seen this done experimentally elsewhere. But he was trying it on a commercial scale, with greenhouses 200 feet long – twice the length of a basketball court and two-thirds as wide.
He had been warned the project could be risky with such big structures. But Johnson – a young, well-educated trendsetter – was willing to take that risk.
"It could blow over – or not move at all," he said with a laugh as he climbed aboard his tractor. "But I've engineered it, and I think it will work."
Johnson's tractor was connected by steel cables to one of the front corners of one of his greenhouses. His facilities manager, Steve Perkins, sat at the wheel of a second tractor connected to the other front corner of the greenhouse. A chilly autumn wind rippled the lightweight fabric covering rows of salad greens. But even unheated, the greenhouse might protect plants enough to keep them producing through the winter: That was the idea.
The two men looked more like boys at play than men at work as they revved their engines. The buckets of the 3,500-pound tractors were tilted into the ground, braced against 9 tons of greenhouse steel plus friction.
---