My 15 minutes as a Jay Leno
The writer takes an eight-week comedy course and then performs at the Hollywood Improv, drawing laughs – then a blank – on stage.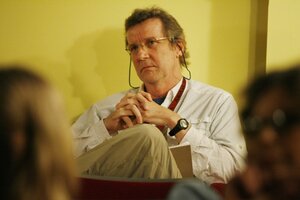 I arrived at the Hollywood Improv two hours before show time and began loosening up by telling jokes to the walls. I wasn't as nervous as I probably should have been.
I paced the hallowed halls past autographed photos of Johnny Carson, Jay Leno, and David Letterman, conjuring up fantasies of tomorrow's headlines – everything from, "Local man stumbles on stage, lodges microphone in esophagus," to "Rookie comic offered 'Tonight Show' after first performance."
Then the loudspeakers shattered my reverie.
"And now, put your hands together for a very, very funny man, Dan Wood."
I made my way through the swinging doors, between tables and chairs, to the spot-lit stage.
"Hello, my name is Dan, and I've never heard of any of you people before, either."
Whatever happened next was swallowed up in the cottony stillness of what felt like a silent dream sequence. I could see my hands gesturing, and I figured my lips were moving because people at tables were nodding and laughing. Next: a visit from my other personality, complete with interior dialogue. "Hey, this guy must not be half bad ... some people are laughing."
"Pay attention, wiseacre, you are this guy."
"Then why are they laughing? These lines aren't that great. I know, I wrote them."
My moment on stage was the culmination of an eight-week comedy course I had taken to learn more about the world of mirth and to see if I could transition from being tired journalist to the next Jerry Seinfeld. As you can see from this piece, I'm still doing B-grade journalism.
---