Is the time right for Slow Fashion?
A fashion movement asks consumers to think about the origin and materials of their clothes.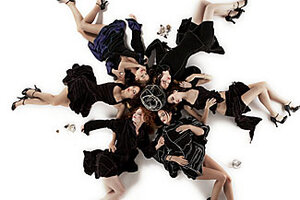 Loren E-C/ Courtesy of Miranda Caroligne
The Slow Fashion/Slow Clothing movement is a patchwork of the old and the new. It borrows heavily from Slow Food ideas of knowing more about what you buy, finding out who produced it, and using that knowledge to buy quality and to make socially and environmentally responsible choices.
You'll find Slow Fashion on the gritty north side of Burlington, Vt., where men and women working on rented sewing machines make customized garments out of discarded clothes and fabrics. And in the fashion design studios of San Francisco, where "green" is the buzzword and high fashion is spun from recycled and organic materials. It also comes to the US from Bolivian villages high in the Andes mountains, where women knit sweaters made from the coats of free-range alpaca herds.
Slow Fashion can be your own customized dress reworked from one bought for $5 at Goodwill, or one of Miranda Caroligne's $700 handmade jackets crafted from clothing factory scraps.
Slow Clothing surfaced in 2006 as a spinoff of Slow Food, and has since evolved into a somewhat less homespun Slow Fashion movement embraced by rebellious clothing designers in the US and Europe. The phrase "Slow Clothing" appeared in a December 2006 essay by Sharon Astyk, a writer who lives on a small farm in upstate New York. Her essay, appearing in the online Groovy Green Magazine, outlined in forceful language a program of independence from the multibillion-dollar clothing industry and "its exploitation of poor people ... toxic pesticide use and the inhumane treatment of animals." Ms. Astyk challenged US households "to create a single outfit for every man, woman, and child that is homemade." Harking back to a simpler era, she also urged families to mend their clothes and buy fewer new ones.
---