Where oh where is that peach pie recipe?
When the pile of recipes is out of control, it's time to organize it. Here's how.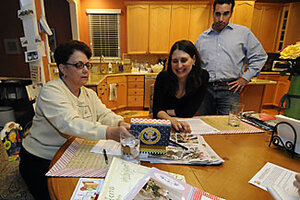 David T. Foster III, Charlotte Observer
For many cooks, "recipe collection" is defined as a pile of cookbooks, magazines, yellowed news clippings, computer printouts, and spattered notecards that requires patient sifting and the eye of a seasoned Quidditch player.
Occasionally, the searcher discovers – as this reporter did in December – that she's inadvertently recycled the copy of Better Homes and Gardens containing the prized recipe for beef tenderloin stuffed with goat cheese that was supposed to be the main course for Christmas dinner. Unfortunately, so has her mother.
Doris Walker, a massage therapist in Homer, N.Y., who loves cooking so much that she occasionally teaches a course on it, had a collection that would have baffled forensic investigators. "My recipes come from way back when I was a child. They were handwritten who-knows-when by who-knows-who." says Ms. Walker." They had water stains, food stains...."
To protect the recipes from further damage, Walker mailed the whole collection to Pam Sultzman, a professional recipe organizer in Charlotte, N.C. Ms. Sultzman retyped all the recipes – no matter how "illegible," Walker says – laminated them, and sorted them into previously agreed-upon categories. Now, her collection is contained in one box in her kitchen. "It's even alphabetized," says Walker, who sends Sultzman any new recipes she collects every six months to keep the pile of paper from mushrooming anew. "Now, if someone wants a recipe for apple strudel, I can find it."
While organizing recipes may seem like a frill in this economy, Walker argues that a tight budget is actually a reason to get motivated. "With the economy, you prefer to have a meal in your house rather than going out or spending money buying sandwiches all the time," says Walker, who believes that people will cook more often and more efficiently if their kitchens are organized. She has memories of her grandmother doing all the cooking when she was a child." Get your kids involved – it can be a family affair."
---