My tale as a temp worker with UPS
I loaded and unloaded cargo in Des Moines for the holidays, learning the importance of a hard day's work – and ball bearings as a moving aid.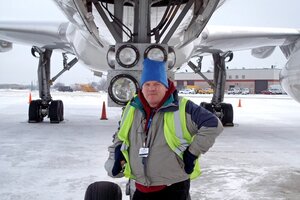 Courtesy of Steve Dinnen
Under normal conditions, I would not stand under the fuselage of a cargo plane the size of the Holland Tunnel, my face planted just inches from a small vent bearing the label: "Warning. High powered hot air exhaust door. Keep Out."
But normal went out the window – along with my white-collar job – with the plunge in the economy and the newspaper industry in which I worked. So instead of reporting about the economy's woes, on this iced-over winter morning, I was one of its statistics: I was toiling as a "temp worker" – a part-time loader for the air freight operations of UPS.
They needed extra people to handle the holiday rush at their cargo hub in Des Moines. I needed some work. So I joined about 50 other guys, and a few women, to help the company and put a little cash in my pocket. And by little I mean under $10 an hour, with no benefits.
I was becoming what economists like to call a "waiter." I was taking a job outside my normal sphere of expertise while waiting (I hoped) for something better to emerge. Every economic downturn – or even normal period – has its share of jobless people who take part-time work, both to help pay the grocery bill and to avoid starting to talk to the cat.
But this recession, because of its severity and length, is forcing an unusual number of people to look for a paycheck of any kind.
According to the US Bureau of Labor Statistics, the number of people classified as working part time "for economic reasons" nearly doubled from December 2007 to December 2008, hitting 8 million.
"There are a lot of people who say, 'I can't just sit. I've got bills to pay,' " says John Challenger, CEO of the Chicago-based outplacement firm Challenger, Gray & Christmas.
---
Follow Stories Like This
Get the Monitor stories you care about delivered to your inbox.