Last of a breed who make boats out of reeds
On the shores of famed Lake Titicaca, Demetrio Limachi and a handful of others toil to preserve the ancient art of creating crescent-shaped craft out of bundles of dried reeds.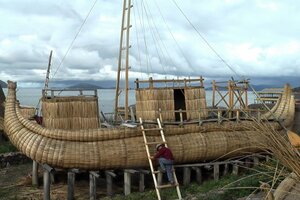 Sara Miller Llana/The Christian Science Monitor
Demetrio Limachi is a man with a foot in another century. Along the shores of Lake Titicaca, the world's highest navigable lake, modernization and globalization lap at an ancient culture. Cars and tourist busses whiz by along the highway that lines the lake's edge. Hordes of backpackers in North Face jackets explore the area by boat. Hydrofoils dart around the body of water that sits 12,500 feet above sea level.
But Mr. Limachi, a humble craftsman in a red alpaca shawl, is carrying on one of the most revered and ancient of traditions: He's making boats out of reeds. Called totoras, the boats were once the only way residents who inhabit the area's desolate islands could navigate Lake Titicaca. Limachi is now one of the last in the world to create what are essentially floating wicker baskets.
"If we stop creating these boats, then no one will know how to make them in the future," he says. "I am teaching my grandson how to build so that our tradition stays alive."
His sentiment reflects a cultural resurgence being felt across Bolivia. It extends from a rekindling of the traditional Indian languages of Aymara and Quechua to reclaiming ancient customs, particularly as the nation's first indigenous president, Evo Morales, ushers in a new era of indigenous pride. Recently he enshrined the rights of native Bolivians in a new constitution, giving them access to their ancestral land and power to issue their own community justice.
In few places is the pride of the past more evident than around the cobalt waters of Lake Titicaca – and in Limachi's gnarled but skilled hands.
• • •
For a first-time visitor, Lake Titicaca, tucked into the Andes Mountains, certainly seems steeped in tradition. On the high plains, women don timeworn bowler hats that seem to defy gravity, tilting perfectly off the sides of their heads. Old men amble across their land, past grazing llamas. Locals talk in their native dialect.
---