In the hands of babes: Thai elephants' future
A new generation of mahouts – some as young as 7, and as lightweight as 50 pounds – bend the will of the massive beast.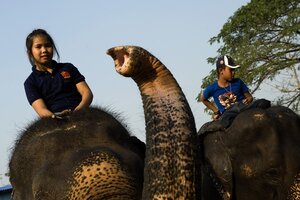 Andy Nelson/The Christian Science Monitor
Dok Mak is old enough to be Goh's great-grandma and her head alone dwarfs the boy. She eats his weight for breakfast and can easily lift a tree trunk many times his size.
Right now, though, on the pint-size boy's command, the matronly pachyderm obediently lifts a leg – with Goh standing on it. Goh grabs Dok Mak's droopy ear and hoists himself astride her bulky neck. He rides the elephant down a well-trodden dirt path to the nearby river for her afternoon bath.
Bunta Santiwong, or "Goh," is only 11 years old. And he weighs only 55 lbs. But he's already an expert at tending and handling jumbos. "I was little when I started riding elephants with my dad," the boy explains. He sports the traditional topknot of Thai preadolescents and scampers around barefoot. "My friends in school think it's cool I live with elephants."
Goh goes to a primary school here in Thailand's historic capital, 50 miles north of Bangkok. After his classes, the fifth-grader returns to the Royal Elephant Kraal and Village, a privately owned shelter for 150 pachyderms, where his family lives in a simple rattan hut. Goh's father is a mahout; he rides and tends elephants. The boy is learning to follow in his father's footsteps.
Youngsters like him may hold the future for Thailand's elephants. When Dok Mak was Goh's age, her kind were still esteemed as the nation's guardians. They numbered in the tens of thousands. In the seven decades since, logging – into which she was once enslaved – decimated forests. Barely any elephants remain in the wild; motor vehicles, meanwhile, robbed domesticated animals of their erstwhile status and utility. Elephants now number only 3,500, with aged tuskers outnumbering the young.
---