Christian outreach moves into the inner city
The New Monastics, young Evangelicals in the mold of early Benedictines, seek to 'radiate' their faith by living among and helping the needy.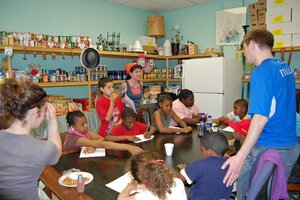 Carol Huang
DORCHESTER, MASS.
Young Nadeje and her tutor, Leah Beidler, are sitting around the kitchen table as they do every Monday night. Usually, the fifth-grader from this inner-city Boston neighborhood and the college graduate from Vermont do homework.
But tonight they're buying iTunes, in a warmly lit room painted robin's-egg blue, with a framed collage of smiling neighborhood kids hanging overhead. You'd never guess this cozy apartment was once a decaying crack house where the walls were black with nicotine stains.
The house is, in fact, a world away from White River Junction, Vt., where Ms. Beidler, an early education major, grew up. But she moved in because she didn't want to "just" volunteer once a week through her church outreach program.
Instead, she and two other tutors – Kim Conrad from suburban Indiana, and Caitlin Turpel from a gated community in Florida – "took a leap of faith" last summer and moved into this gritty part of Dorchester. Together with two male tutors upstairs, they helped turn the onetime drug den into a home for themselves and a "sanctuary" for kids in the neighborhood. "I wasn't sharing in their triumphs and suffering" as the Bible calls for, says Beidler.
---
Follow Stories Like This
Get the Monitor stories you care about delivered to your inbox.