Rehearsing to act 'natural' on reality TV
A prep school for 'American Idol' wannabes coaches them for auditions.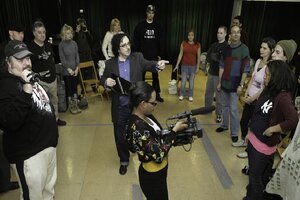 Kristen E. Olson/Special to The Christian Science Monitor
In a small studio in midtown Manhattan, a man walks the gantlet through two lines of people hurling insults his way.
"You're disgusting!"
"I'm going to kill you!"
"What's wrong with you, you pig?!"
He smiles and looks straight ahead, walking unruffled to the end. But then, that's the goal of this exercise at the New York Reality TV School. It's intended to give students the strength to endure auditions and elimination rounds for reality TV programs.
Even avid fans may not realize it, but the goal of reality TV has always been to make the fake and rehearsed seem natural and real. So it only makes sense that a prime commandment of the New York Reality TV School is that "everything [auditioners] do ... must be candid, genuine, and not an act." Or at least appear not to be.
In truth, nearly every wannabe reality star in this group is also a wannabe actor. They are models and full-time students, comedians and photographers, an opera singer and an ex-cop. They all share a dream of being spotted on "American Idol" or "Survivor" as the next big Hollywood talent.
That's why today each has spent $139 to learn how to make it through the first cut.
"You're not going to learn tricks," Robert Galinsky, the school's founder, tells his 17 students. "You're not going to learn back-door information or how to sneak around. It's really about three things: confidence, authenticity, and how you tell your story."
---