It's a dog's life
And it's not half bad. Even in a recession, Americans bow to the slobbering, shedding, fiercely loyal king of pets.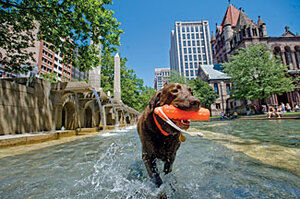 Ann Hermes/The Christian Science Monitor
Not far from the White House is a building with a large fire hydrant built onto its facade and a new poop-bag dispenser in the entry. This is Wagtime – one of the city's most popular doggy day-care operations. Here, every rush hour, owner Lisa Schreiber greets a steady stream of business-suited customers, offering heartfelt words about how nicely Cookie or Chloe or Oliver played today.
She knows each pooch. Not just their moods and proclivities, but also their diets (low fat or grain-free, allergic to chicken, preference for duck) and their medicines (for the heart, the joints, the jitters). This is impressive, given that on any day there are around 60 canines at Wagtime, either in the big-dog romp area, or in the upstairs small-dog playroom with attached roof deck. And judging by the reaction of the "mommies and daddies" – there are no "owners" here – it is also much appreciated. Ms. Schreiber is thinking of starting a waiting list for the full-time, $900-a-month slots.
For many in the dog world, Schreiber explains, pet day care is no more of a luxury than preschool. Buying high-end dog food feels no more frivolous than serving organic fruits and vegetables; Prozac for the pup no more outrageous than Ritalin for the teenager.
"When we were growing up, I had an American Eskimo [dog]," Schreiber says. "We didn't get him fixed, we fed him the grossest food. We didn't know better. Today we do ... and people want to do what's best for them ... their dogs are like their children. They're definitely members of the family."
---