Taking the homeless beyond shelters
Rosanne Haggerty's Common Ground creates permanent housing that has reduced homelessness by 87 percent in one 20-block area of New York City.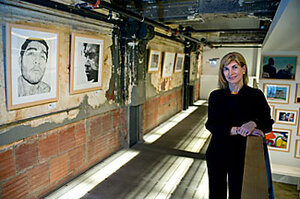 Ann Hermes/The Christian Science Monitor
Rosanne Haggerty didn't intend to start a crusade against home­lessness. Taking a year off before law school, or so she thought, to volunteer at a shelter for runaway youths in Times Square in 1983, she learned the lesson that became her calling.
"It [had] never occurred to me there was a missing piece between availability of housing [and] everything else they needed to be able to lead a purposeful life: a job, finishing their education, decent health," Ms. Haggerty says. "How could you begin to address that if people were wandering the streets or going from couch to couch?"
Few people saw homelessness that way 20 years ago. The common assumption was that the homeless were lazy or crazy, and the common solution was shelters and soup kitchens. Haggerty saw it differently: "I realized that for all of the [shelter] housing we were building in midtown [Manhattan], I was still seeing some of the same homeless people in Times Square I'd been seeing for years."
Shelters, she realized, weren't working. So when Haggerty set out to tackle a spot known in New York City as "homeless hell," she had to build a nonprofit – Common Ground – to support her vision. Common Ground's first project was the Times Square Hotel. Built as a men's hotel in 1922, it had become what Haggerty recalls as "a very public disaster" by the time she began her work in 1990. "It had been used as emergency housing for homeless families by the city of New York, and it was a scene of complete social chaos," she says. "The building had 1,700 building-code violations."
---