Books were salvation for L.A. gangbanger
Poet Luis Rodriguez created Tia Chucha's Centro Cultural and bookstore to help save others.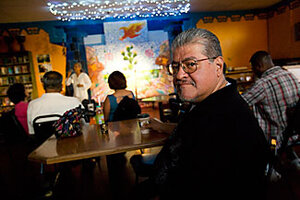 Stephanie Diani / Special to The Christian Science Monitor
Luis Rodriguez is not particularly interested in genesis stories. This may be because his isn't pretty: As a young teen, Mr. Rodriguez got sucked into Los Angeles's violent gang culture. He started stealing, but eventually he was involved in drive-by shootings and arrested for attempted murder. He stayed in the gang world for seven years, and even when he'd left, some of the nastier habits stayed. Rodriguez was a drug addict and an alcoholic.
"I spent 27 years living in a dream," he says. "That's a lot."
But even then, Rodriguez had a special connection to the arts. "What saved me was ... I used to do graffiti art, and then I started painting murals," he says. "And I loved books.... I would be a gangbanger walking around libraries, with librarians walking around me to make sure I wasn't doing anything. Books were my saving grace."
Rodriquez went on to publish a memoir, a novel, and a book of poems that won him the Paterson Poetry Prize. But he still lived in East L.A., and he couldn't find a bookstore.
"Most people look at [this community] and say it's not worth investing [in]," says Rodriguez, graying and short, but still thick enough to intimidate. "I always knew that poor people, even if they have no material means, have an abundance in other ways."
So Rodriguez started Tia Chucha's Centro Cultural and Bookstore in 2001. The space fuses his literary and community work: Part bookstore, performance hall, and art and music studio, the creation is what he thinks of as a Chicano cultural center. Writers share their work at open mics; kids record demo tapes or spoken-word poetry; and anyone can buy books here, at the only bookstore in L.A. County's northeast San Fernando Valley, the nation's second-largest Mexican community. Rodriguez runs the $170,000-a-year operation with money he makes from lectures and writing, with the bookstore and press's meager revenue, with state funds, and with his wife, who works full time as a volunteer. But cash-strapped California hasn't been a reliable partner in recent years.
---