Managing a faster pace of change
Upset with how slow public-health initiatives moved in poor countries, Josh Ruxin decided to treat them like the private sector.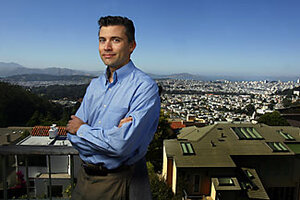 Tony Avelar/ The Christian Science Monitor (photo taken in San francisco)
Just weeks after the birth of his second daughter earlier this year, Josh Ruxin found himself thinking about Bolivia. He had worked there for a year after college, focusing on maternal and infant health among the very poor.
"In this village I worked in, I approached this woman who had a newborn infant who looked sick," he remembers. "I said, 'What's this baby's name?' She said, 'Oh, she doesn't have a name yet.' She was 5 weeks old. I asked, 'Why doesn't she have a name?' The woman said, 'Well, if she dies, I don't want to waste a good name.'"
The difficult lives of the rural poor have motivated Mr. Ruxin since his first trip to the third world. He was 17, and he visited Yifat, a remote village in northern Ethiopia. The teenager who dreamed of becoming a Silicon Valley entrepreneur saw dire poverty for the first time: "What hit me in Ethiopia was [that] this is not a documentary on PBS, this is not a news story, this is not a study ...­ this is reality."
The experience was so powerful that Ruxin abandoned his "great plans of being a really, really wealthy capitalist" and devoted himself to studying poverty and health problems.
But the spirit of capitalism never quite left him. In the 1990s, he was one of many impressed by the simplicity of a cure for dehydration: Combining sugar, salt, and water could save children from dying of dehydration from diarrhea, cholera, and other diseases.
"What could be simpler?" he asks. "Yet diarrheal disease is still one of the top killers globally."
---