Golden Globe nominations tap 'Avatar' and 'Up' among others
Globes' nominations offer a rough road map to the Oscars in March.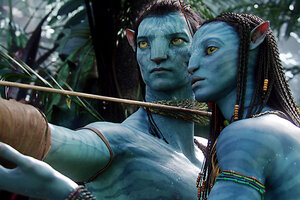 20th Century Fox/AP
The 67th annual Golden Globe Award nominations for film and television are fresh off the press, but the rush to dissect their deeper meaning is in full bloom. Despite the nods for the small screen, most media watchers see the selections of the Hollywood Foreign Press Association, with fewer than 100 voting members, as the Ghosts of Awards Shows Future, primarily the Oscars. There are some surprises, mainly in the best film and acting categories, the biggest perhaps being the tap for James Cameron's $230 million blockbuster, "Avatar," for best drama.
The inclusion of a film widely regarded as a crowd-pleasing, special-effects-driven popcorn flick extravaganza is a startling sign that the effort is being taken seriously – for a good reason, says Matthew Belloni, managing editor of the trade publication, The Hollywood Reporter. "The Globes have a tradition of choosing movies that will move the industry forward," he says, adding that the technological achievement in depicting a 3-D, deep-space environment is widely seen as setting new cinematic standards. On the downside, the absence of a nod for Clint Eastwood's Nelson Mandela tribute, "Invictus," was particularly surprising, given both the acting and directing nods to the film received for Morgan Freeman and Clint Eastwood, respectively. Other unexpected moments include the double nods for Sandra Bullock, one for drama ("The Blind Side") and one for comedy ("The Proposal").
---