Inside the mind of Tim Burton
New exhibition explores the goth-inspired director's creative process from earliest childhood to his recent films.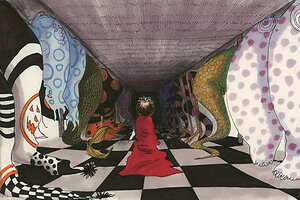 Courtesy of MOMA
If a visit inside the mind of an enigmatic director were written as a screenplay, it might begin like this:
INTERIOR: MUSEUM OF MODERN ART, NEW YORK CITY – DAY
The VIEWER sees a spiral painted on the floor outside an art gallery, a symbol of unbalanced vertigo. She walks on a red-carpet "tongue" through a portal shaped like a toothy monster's head. Six video monitors line a black-and-white striped corridor showing the misadventures of a hapless antisuperhero named Stainboy. LAUGHTER from other MUSEUM-GOERS. The viewer is plunged into a spooky room lit by black light, where an iridescent carousel revolves above a many-tentacled, phosphorescent sea creature.
ART CRITIC
"Welcome to the weird, wacky, wonderful world of Tim Burton's imagination!"
Until April 26, 2010, the Museum of Modern Art hosts "Tim Burton," an exhibition of 500 drawings, cartoons, paintings, sketches, photographs, and moving-image works by the director of hit films like "Beetlejuice," "Edward Scissorhands," and "Batman." The display of original work is accompanied by screenings of his 14 feature films and 200 objects like props, "sculps," and costumes fabricated for the films. Museum director Glenn Lowry terms it "the largest, most comprehensive monographic show to date devoted to a single filmmaker." Mr. Lowry praises Burton for allowing curators access to his personal archive, which seems to include every doodle he ever scribbled from childhood 'til now.
---