Will chicken litter and fly ash make the 'perfect' compost?
Retiree uses fly ash and chicken litter to develop an odorless, nutrient-rich compost that he hopes is the perfect garden fertilizer.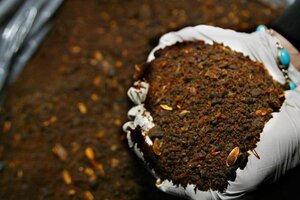 NEWSCOM
There's something to be said about the perfect mixture.
Silver Creek, Miss.'s Gerald Brent has being mixing and stirring for four years, and if his product comes out right, there may be something to say about him as well.
The retired Georgia-Pacific hand has kept the dirt under his fingernails rich over the past 48 months, mixing different forms of agricultural and industrial waste in search of what he believes will be a near-perfect fertilizer. Brent hopes to begin producing a 90-day accelerated compost for the gardening market next year, and he's combined personal investment with professional advice, sound chemistry and hard, dirty work to make it happen.
"You can't go 'if'ing' when you go into the market - if I'd done this or if I'd done that. You've got to know," Mr. Brent says.
Brent's mix is actually rather simple – a load of chicken litter, a load of fly ash, a touch of lime. He purchases the chicken litter on contract with local chicken farmers, and he trucks in the fly ash – the burned residue from solid fuels like wood and coal - from nearby Georgia-Pacific. The ingredients act on each other to balance the acidity level while generating fertile soil.
Chicken litter on its own is powerful fertilizer, Brent says, but the black, powdery fly ash is the key. Whereas the top few inches of chicken litter will seal over in the rain, the fly ash makes the mixture permeable, allowing the bacteria that break down the mixture to stay warm, wet and working rapidly at 140 degrees. Though a normal compost pile may take a year to break down into good soil, Brent's accelerated compost is designed to go from mixing pot to application in 90 days.
"That's the key factor, being able to turn out as much as you want in 90 days," he says.
---