Has blogging peaked?
The demands of blogging have pushed many to abandon the form for faster, simpler word bursts on Twitter or Facebook.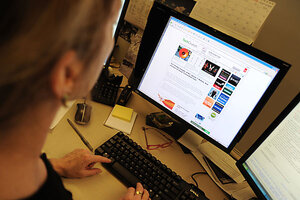 Karen Bleier/AFP/Newscom
Today, there is increasing evidence that the art of blog writing is losing ground to even faster forms of communication, from 140-character Twitter blasts to one-sentence status updates on Facebook and MySpace. Nielsen Media Research estimates that of the 126 million blogs counted by its crawlers, the vast majority are rarely – if ever – updated.
According to the Pew Research Center's Internet & American Life Project, blogging activity has dropped drastically among young adults in the United States, a demographic that traditionally helps define the tenor of the online conversation. In December 2007, for instance, 28 percent of all 18-to-29-year-olds with an Internet connection kept some sort of blog. By the same time last year, that number hovered around 15 percent. Meanwhile, the number of teens who say they blog regularly continues to shrink, as the Web's youngest users ditch the blogosphere for the frantic pace of the social-media world.
"Sites like Twitter are offering this other way to maintain a similar social connection, but without the concerted effort of a detailed, four-paragraph blog post," says Amanda Lenhart, a senior research analyst at the Pew Research Center.
Of course, the plain old blog – a term that can encapsulate content as diverse as a collection of short-form Tumblr posts or embedded YouTube videos – isn't going to vanish anytime soon. Companies around the world continue to launch blogs as a way of reaching out to consumers, as do major media outlets.
---