Black Swan leads Critics Choice award nominations
Black Swan, starring Natalie Portman and Mila Kunis as rival ballerinas, got a record 12 nominations in the Critics' Choice Movie Awards. Close behind was The King's Speech.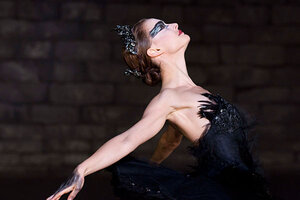 Fox Searchlight/ Niko Tavernise/AP
``Black Swan,'' a melodrama set in the ballet world, took center stage among the nominees for the Critics' Choice Movie Awards, an event that has surpassed the Golden Globes as a leading Oscar predictor.
The film, drawing sell-out crowds in early limited release across North America, scored 12 nominations -- a record in the event's 16-year history, organizers said Monday.
Close behind -- with 11 each -- were the British royals drama ``The King's Speech'' and the yet-to-open Western remake ''True Grit.'' The sci-fi smash ``Inception'' picked up 10 nominations, and corporate drama ``The Social Network'' nine.
All five will vie for both best picture and director, along with ``127 Hours.'' The 10-strong best picture race also includes ''The Fighter,'' ``The Town,'' ``Toy Story 3'' and ``Winter's Bone.''
Small art-house releases dominated the field, leaving ``Toy Story 3'' and ``Inception'' to fly the flag for mainstream crowd-pleasers. Notably absent among the nominees were such awards-season contenders as Sofia Coppola's upcoming ''Somewhere'' and the Martin Scorsese hit ``Shutter Island.''
---