Wonder Woman: Adrianne Palicki to star in David E. Kelley's new TV pilot
Wonder Woman, the new TV pilot of the DC Comics heroine, has been unveiled. Adrianne Palicki will star as Wonder Woman in the new TV pilot written by the creator of 'Ally McBeal' and 'Boston Legal.'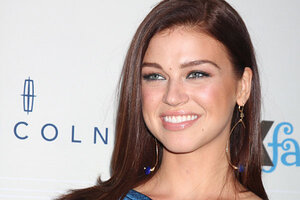 ZUMA Press/Newscom
After months of speculation, Adrianne Palicki has won the mantle of Wonder Woman.
The TV pilot is the creation of David E. Kelley, who has an impressive resumé of award-winning TV shows under his belt.
In his "reinvention" of Wonder Woman's alter ego, Diana Prince, she is a successful corporate executive in Los Angeles. Kelley's obviously aiming to make her a truly modern "Wonder Woman." No other plot details have been revealed as yet. Will she be from a hidden tribe of greek Amazons? Will the monsters and gods of Greek myth be her adversaries? Will she don her classic red, white, and blue costume? Will she have her bullet-deflecting bracelets, magic lasso, and invisible plane at her disposal?
IN PICTURES: Real Wonder Women
Fans online have already bemoaned the remake of Diana Prince for the show. But with Kelley's track record writing strong woman characters, like "Ally McBeal," fans should hold off panning it altogether.
---