The rise of urban farming
Urban farming's trendy frugality is drawing converts in an age of economic uncertainty.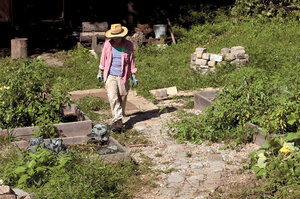 Melanie Stetson Freeman/Staff
Greg Peterson's 1950s tract home looks like any other house on his block in Phoenix, with one notable difference: Practically everything in his yard is edible. More than 70 fruit trees reach for the sky. Chickens patrol for bugs in the yard. Late summer tomatoes, okra, and herbs such as basil and oregano punch fragrance into the air. Rain and gray water are harvested for watering, and solar panels on his house convert the sun's rays into energy.
Mr. Peterson calls his oasis of bounty on one-third of an acre "The Urban Farm." Once an anomaly among the manicured lawns in his neighborhood, Peterson's place has been so convincing an example over the past decade that scores of other suburban dwellers have traded decorative bushes for raised vegetable beds and straw-filled chicken coops.
"I started offering tours and classes at The Urban Farm every first Saturday [in 2001]. There were Saturdays where I would wait twiddling my thumbs ... for people to show up," Peterson recalls. "Now it is nothing for me to get 250 people ... for four different tours."
Meet the urban homesteader. Slowly, across the past decade, more Americans like Peterson have been proving that growing and preserving food is possible in all kinds of populated settings. City dwellers are practicing sustainable living at new levels beyond shopping for organic carrots and recycling bottles. Whether it is a tilapia farm in garden tubs in Kansas City, Mo., beekeeping in Chicago, or jars of homemade pickles in an apartment pantry in Austin, Texas, urban homesteaders are rebelling against the industrial food system by shouldering more of the responsibility for producing their own food.
---