'The Avengers' sets weekend record. Is there a message for the industry?
Hollywood is welcoming the success of 'The Avengers' – a formula blockbuster with a simple good-vs.-evil story line – but industry analysts aren't ready to draw too many conclusions.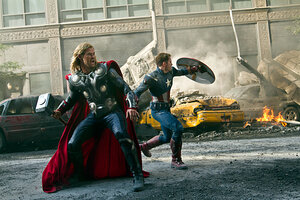 Zade Rosenthal/Disney/AP
After last year's worst-since-1995 box office for the movie industry, the record-setting opening this weekend for "The Avengers" – $200.3 million at theaters in the US and Canada – was welcome news for the industry, suggesting a strong turnaround heading into the summer season.
Does the initial success of this formula blockbuster, which also flipped the conventional pattern of opening first in the United States and then globally, portend any emerging trend in Hollywood offerings for moviegoers in the foreseeable future?
For sure, "The Avengers" promises to be a huge plus for Disney, which had been financially tottering of late after the huge disappointment of John Carter, another all-star extravaganza, and has put them on solid financial ground, possibly for years.
But it's not yet clear whether "The Avengers" success in opening first overseas – it garnered $441 million last week – is a harbinger for more simple, good-vs.-evil story lines that translate easily to different cultures and languages.
"Opening overseas is a growing trend and part of an important one in understanding "The Avengers" phenomenon – in an era of globalization, international markets are more important than ever," says Peter Lehman, director of the Center for Film, Media and Popular Culture at Arizona State University. "But based upon film history," he says vie e-mail, "I would caution that we should be careful about predicting the future based upon the success of any single film. Many Hollywood action films will open overseas and not be blockbusters or even big hits."
---