Ray Bradbury, a passionate sci-fi writer with the gifts of a painter
Ray Bradbury wrote his more than 500 stories, novels, plays, and poems on a typewriter, creating imagery that helped bring sci-fi and fantasy into the mainstream of American popular culture.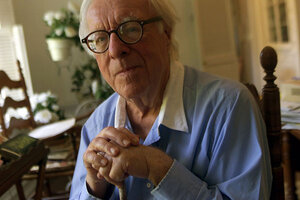 AP/File
Author Ray Bradbury was a passionate, professional wordsmith who wrote his more than 500 short stories, novels, plays, and poems on a typewriter. He loved the feel and smell of printed words on paper and began a lifelong love affair with libraries at an early age.
Mr. Bradbury, who died late Tuesday, often recounted how he penned his most famous novel, "Fahrenheit 451," in the basement of the UCLA library where he could rent a typewriter for a dime per half hour.
But, in the end, say colleagues and fans, it is his images that helped elevate the world of science fiction and fantasy from the fringes into the heart of modern American popular culture, paving the way for such mainstream hits as "E.T." and Harry Potter.
"Bradbury had the gift of a writer, but the soul of a painter," says Fordham University Professor Paul Levinson, a former president of the Science Fiction Writers of America who knew and worked with the writer on author events.
---