'Car Talk' to end, leaving void in mechanics-who-talk-like-Noël Coward niche
Tom and Ray Magliozzi, the Tappet Brothers of 'Car Talk' fame, announced that they will end their 35-year run on public radio in September. The unique show was comedy 'of the first order.'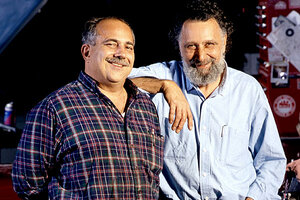 Richard Howard/Car Talk/REUTERS
Sadly, all things come to an end.
For the past 35 years, two guys have put on a radio show that you could call when the engine of your '93 Ford Taurus made an odd sound while idling. They would even imitate it for you, on-air: "MMMMMmmmmMMMMMmmm."
To fix it, they might explain how to find the idle air control under the hood and clean it; or they might tell you to whack that control valve with the heel of your shoe – or maybe to try the shoe first, then cleaning the part if the whack didn't work.
But after years of dispensing mechanical advice and wisecracks, not necessarily in that order, Click and Clack, the Tappet Brothers, Tom and Ray Magliozzi, are shutting the doors of their radio garage. This fall, as their 25th anniversary at NPR approaches, they will stop recording new episodes of "Car Talk," their comedic Saturday morning auto advice show.
It's not a lack of popularity that sparked the decision. They started broadcasting on Boston's WBUR in 1977 after the station invited them to do a talk show about car mechanics, and it was 10 years before NPR picked them up. Now they are heard on 660 stations by about 3.3 million weekly listeners, some of whom call in for advice when they have mechanical difficulties. But, they've "decided that it's time to stop and smell the cappuccino."
"This is a sad day at public radio," says Robert Thompson, founder of the Bleier Center for Television and Popular Culture at Syracuse University. "It didn't matter if you knew a single thing about automobiles, if you cared a single thing about automobiles. It was a comedy program of the first order."
---