Is the end of late-night TV as we've known it near?
Two staples of late-night TV – 'The Tonight Show' and 'Nightline' – received bad news this month, suggesting that a recasting of the late-night order might not be far off.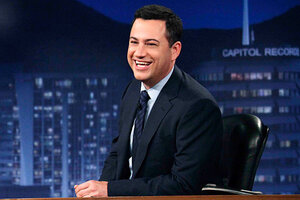 Richard Cartwright/ABC/AP/File
Late-night television could be facing seismic shifts as trends that have shaped the industry during the past few years take an increasing toll on two signature network shows.
First, ABC has announced that it will move "Jimmy Kimmel Live" to 11:35 p.m. starting Jan. 8, pushing the "Nightline" news show to 12:35 a.m.
Second, NBC's "Tonight Show" – long the lucrative late-night standard-bearer – laid off 20 employees in August and host Jay Leno took a 10 percent pay cut. The Los Angeles Times reports that the show is "barely breaking even."
For some media experts, it raises questions about whether the three pillars of late-night television during the past 20 years – "The Tonight Show," "The Late Show with David Letterman," and "Nightline" – are nearing their expiration dates, at least in their current forms.
Cable now controls 84 percent of the $5.6 billion late-night TV market, according to Kantar Media research. In 2011 alone, broadcast TV's share of late-night viewers fell 5 percent.
---