Cold summer for Hollywood: why movie attendance flopped
Hollywood had high hopes for a summer of blockbusters, but instead saw a decline in North American movie attendance. The Olympics and the Colorado movie theater shooting share some blame.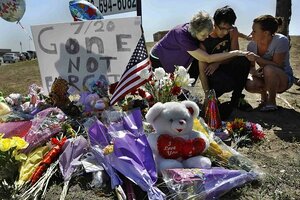 Shannon Stapleton/Reuters
This is the summer that Hollywood would like to remake: Movie-going in the US sank to its lowest level in two decades.
Some 533 million moviegoers in North America bought tickets this summer, a number that was off by four percent from last year. It was also the worst since independent record-keeping of summer tickets sales began in 1993, when the number of tickets sold was some 23 million higher, according to Hollywood.com.
The problem is that summertime – those 18 weeks between May Day and Labor Day – accounts for some 40 percent of the industry's profits, Paul Dergarabedian, box office expert for Hollywood.com, says. This year, however, movie-going had competition from tangible events that affected how many folks headed off their couches and into darkened theaters, he says.
"The Summer Olympics always make a dent in movie-going," Mr. Dergarabedian says. And "there was the tragedy in Colorado, which no doubt kept an unknown amount of people away from the movies," he says.
While it's impossible to know for certain how much the July 20 shooting that killed 12 and wounded 58 at an Aurora, Colo., theater affected interest, the film where the shooting occurred, the Batman movie "The Dark Knight Rises," had been expected to do at least $30 million to $40 million more in opening weekend sales, says Sean Phillips, executive producer for Yahoo! Movies.
"People were nervous and stayed away," he says.
The decline is all the more shocking because the summer kicked off with such expectations of good news, Dergarabedian says. The industry's top franchise films were released over the summer months: "The Avengers," "The Dark Knight Rises," and "The Amazing Spider-Man," the last a successful reboot of a franchise that was not even a decade old.
---