Nicki Minaj, Keith Urban join as judges: Has American Idol jumped the shark?
American Idol judges: American Idol confirmed Sunday that the Season 12 judges will be Randy Jackson, Mariah Carey, Keith Urban, and Nicki Minaj. Is this the beginning of the end for American Idol?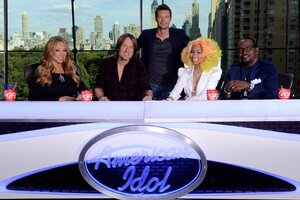 Michael Becker / AP Photo/Fox
American Idol has certainly given cause for concern in the past, especially where the judging is concerned. The addition of Kara DioGuardi to the mix in Season 8 disrupted the successful and entertaining dynamic that Simon Cowell, Paula Abdul, and Randy Jackson had cultivated. After that, things started to quickly fall apart until the panel was left with only one of the original three, to which producers then added Jennifer Lopez and Steven Tyler in Season 10.
Last season, under JLo and Tyler's reign, the show's finale drew fewer viewers than any other finale in the show's eleven seasons.
While there is certainly a natural life expectancy of television shows, the importance of the judging panel on American Idol's overall success can't be underestimated. When a panel works, like Idol's did early on, or like NBC's The Voice's is working now, it elevates a show; enabling it to achieve a level of entertainment that can't be achieved any other way.
---