Jude Law in 'Anna Karenina' does well at box office as 'Breaking Dawn' breaks records
Jude Law stars in 'Anna Karenina,' which performed well in a limited release during Thanksgiving weekend. 'The Twilight Saga: Breaking Dawn – Part 2' had a boffo opening which ranks eighth on all-time debuts.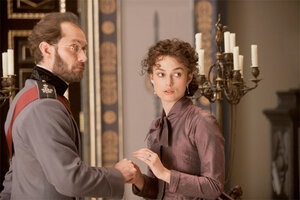 Laurie Sparham/Focus Features/AP
The sun has set on the "Twilight" franchise with one last blockbuster opening for the supernatural romance.
"The Twilight Saga: Breaking Dawn — Part 2" sucked up $141.3 million domestically over opening weekend and $199.6 million more overseas for a worldwide debut of $340.9 million, according to studio estimates Sunday.
The finale ranks eighth on the list of all-time domestic debuts, and leaves "Twilight" with three of the top-10 openings, joining 2009's "New Moon" (No. 7 with $142.8 million) and last year's "Breaking Dawn — Part 1" (No. 9 with $138.1 million).
Last May's "The Avengers" is No. 1 with $207.4 million. "Batman" is the only other franchise with more than one top-10 opening: last July's "The Dark Knight Rises" (No. 3 with $160.9 million) and 2008's "The Dark Knight" (No. 4 with $158.4 million).
Though "Twilight" still is a female-driven franchise, with girls and women making up 79 percent of the opening-weekend audience, the finale drew the biggest male crowds in the series. Action-minded guys had more to root for in the finale as Kristen Stewart, Robert Pattinson and Taylor Lautner join in a colossal battle to end the story of warring vampires and werewolves.
---