American Idol contestants claim racial discrimination. Do they have a case?
Former 'American Idol' contestants say they were disqualified based on their race and criminal records, in violation of California law. What does a legal expert say about the American Idol case?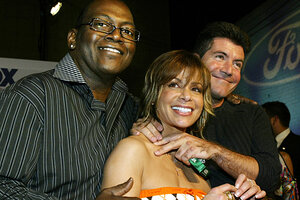 Fred Prouser/Reuters
Nine former "American Idol" contestants have filed a claim of racial discrimination against the popular reality TV show "American Idol," stating that they were they were publicly disqualified based on their race.
But what does a legal expert – and legal precedent – say about the legal merit of the claim?
The claim includes Season 2's Corey Clark and Jaered Andrews, Season 3's Donnie Williams, Season 5's Terrell Brittenum and Derrell Brittenum, Season 6's Thomas Daniels and Akron Watson, Season 8's Ju'Not Joyner and Season 9's Chris Golightly. New York attorney James Freeman is representing them.
TMZ broke the story last Friday, quoting from the letter Freeman submitted to the U.S. Equal Employment Opportunity Commission. Freeman claims that the contestants were essentially applying for "employment" with Idol. During the background check that producers conduct on all American Idol contestants, they ask them whether they have ever been arrested, which would be a violation of California employment law. State law forbids employers from asking applicants about arrest history.
---