Are tomorrow's guitar heroes playing 'Guitar Hero'?
Some claim that video games help kids hone real musical chops and interest in the instrument.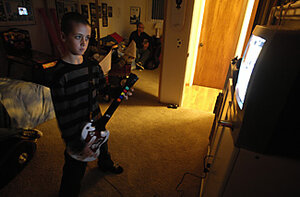 Jeff Gritchen/Special to the Christian Science Monitor
For Lary Spears, a guitar hero is not someone who jacks into a game console and hits push-button chords. The longtime bassist, now a sales executive at G&L Guitars, used to build instruments at the company's Fullerton, Calif., factory.
So he winced when his son, Shane, piled up the money he'd been given for his 10th birthday this fall and announced his plan to buy "Guitar Hero III." Shane already owned a G&L Tribute electric guitar – customized by his craftsman dad – that he seemed to enjoy thrashing in front of his bedroom mirror.
"I've always been kind of an old-school guy," says Mr. Spears. "If you want to play guitar, go pick up a guitar. You don't need a video game for that."
Still, once his son was gleefully gaming, Spears drifted into the room to see what all the buzz was about. He sat down, he says, and really worked the "GH III." It was a revelatory half hour.
"It teaches him tempo, meter, how the guitar works inside of a song, the little skip beats – the 'and two' kinds of beats," says Spears.
Don't fire the guitar teacher. But real-life instrumental mastery might just get a boost in the mock-rock age of "Guitar Hero" and "Rock Band" (in which a full array of instruments, including drum kit, is rendered in plastic facsimile).
---