Monitor picks
From 'Get Smart' to the new 'Indiana Jones,' here are five 2008 movies we think you'll really like.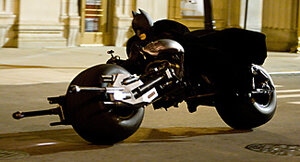 The Dark Knight
The Batman sequel swings into theaters in midsummer, which gives you plenty of time to brace yourself for a darker, grittier Caped Crusader. The catch? This time, Batman will face off against the Joker, played by a manic – and distinctly ashen – Heath Ledger. Warner Brothers has been careful to control its studio leaks; still, we've seen enough partial Web trailers to be shaking in our Bat boots.
WALL•E
WALL•E, a binocular-eyed robot, spends 700 years alone in a city after an apocalypse. (Will Smith had it easy in "I Am Legend.") Then, to the madcap theme tune of "Brazil," the heavens open and ... you'll just have to see for yourself by viewing the trailer for the new Pixar movie at http://disney.go.com/disneypictures/wall-e/.
---