Meet the fake Steve Jobs...
... and several other satirists blogging in the guise of famous CEOs as interest in captains of industry grows.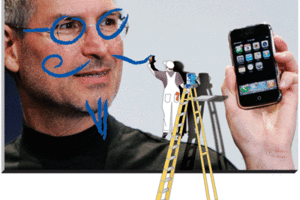 scott wallace -staff
Fake diaries of real figures have a long, colorful history, from the faux writings of Adolf Hitlerto the fictional blog by Paris Hilton.
But recently, a new subgenre of the "made-up memoir" has appeared online: the "fake CEO" blog. These satiric, Internet blogs parody the inner dreams and outer schemes of business titans such as Apple CEO Steve Jobs, Oracle's Larry Ellison, and News Corporation's Rupert Murdoch. Their often hilarious riffs on business strategies, personal rivalries, and most important, say new-media watchers, their impressive audience numbers, underscore the "celebritization" of those formerly gray-flannel folks known as "suits."
"The role of CEO has changed from good manager to charismatic leader over the last decade," says Alex Halavais, communications professor at Quinnipiac University in Hamden, Conn. This is particularly true with consumer technology, which increasingly affects people's lives so directly. As Mr. Halavais points out, Mr. Jobs waits to unveil new products until he can do so personally, "in idiosyncratic fashion, in front of a crowd of admirers."
---