Monitor Picks
Five things we think you'll like, including a TV compendium of Jane Austen, a food show for adventurous travelers, and a 24/7 guitar tutor of your own.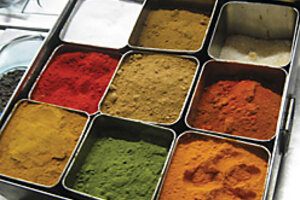 Courtesy of Tom Vitale/WGBH
Global gourmet
We missed the first season of Gourmet's Diary of a Foodie – but we won't make the same mistake with Season 2. Starting in southern India, this fabulous meditation on food and travel follows foodies from around the world as they explore the cuisine of their own countries. And there is always a trip through Gourmet's test kitchen, where editor Ruth Reichl and her team interpret exotic recipes for American kitchens.
Romantic rendezvouz
Sorry, Leo and Kate, but no shipboard love affair compares with that of the late Deborah Kerr and Cary Grant in An Affair to Remember. A 50th-anniversary reissue includes reminiscences about the stars, and a featurette on the belated popularity of this initially overlooked classic. All that's missing is a complimentary pack of tissues.
A becoming Jane
---