For some Hollywood screenwriters, an unlikely diversion: children's books
As the writers' strike enters its fourth month, six scribes explore a different medium.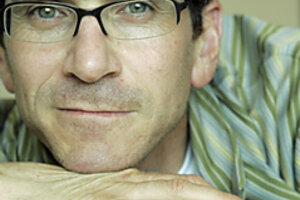 Courtesy of Maggie Begley productions
In the fall, Robert Kurtz approached David N. Weiss – a screenwriter whose credits include "Shrek 2," episodes of the TV series "Rugrats," and both "Rugrats" movies – about writing a children's book. In response, Mr. Weiss swiveled his computer screen to reveal notes on a young amphibian with the unfortunate habit of eating his friends. Weiss had invented "Carl the Frog" as a bedtime story for his own kids.
"I loved it. It was exactly what we wanted," says Mr. Kurtz, creative director and vice president of the newly formed Worthwhile Books, and a screenwriter himself. "That was our first book. And it was already in his computer."
Whether every Hollywood screenwriter has a children's book draft tucked in a drawer remains to be seen. (The Los Angeles Times recently reported that two picketing screenwriters are collaborating on a young-adult trilogy.) But for the six whose debut efforts will be released by Worthwhile this year, the writers' strike has meant some extra time and space to explore a different creative medium. As disgruntled scribes enter their fourth month without a contract (or a paycheck), threatening awards season and leaving hapless viewers bereft of favorite shows, it may be one of the strike's few upsides.
---