Turning cities into art galleries
Public art can generate big revenues and beautify urban areas. Or it can anger residents. How does one measure its success?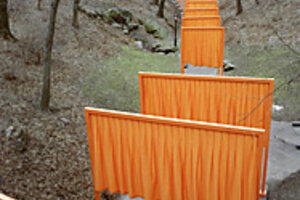 Mark Lennihan/ap
For more than a century, the majestic Brooklyn Bridge has straddled the East River, linking the piers of lower Manhattan to the brownstones of Brooklyn Heights.
Now, under the hand of the Danish-born artist Olafur Eliasson, the national monument is passing into a second, and temporary, phase: that of hulking, stone-and-steel canvas.
Beginning this month, the Tishman Construction Corporation will install four electrically powered waterfalls, arranged on skeletons of exposed scaffolding and ranging in height from 90 to 120 ft. One installation is scheduled for Governors Island in New York Harbor; two more will sit on either side of the East River, in Brooklyn and Manhattan. The fourth will be mounted on the underside of the Brooklyn Bridge.
In an e-mail message, Mr. Eliasson said he hopes the scale of "New York City Waterfalls" – among the most ambitious projects in recent memory – could help spur a revitalization of New York's waterfront.
---