Video games: For women, new appeal
Better 'playability,' faster downloads open doors to a new player demographic.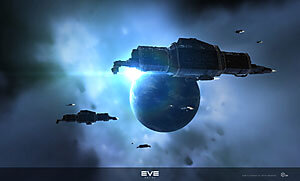 courtesy of CCP
Guys play video games. Girls don't.
For years, that's been conventional wisdom among industry insiders and hard-core gamers, who are predominantly young, white, and male. But the widespread success of a string of recent games – accessible, intuitive, and downright cheap – has changed the landscape, many producers say.
Leading the charge: the evolution of the so-called "free to play" (F2P) model and a boom in downloadable games, which can be accessed through traditional platforms such as Sony's PlayStation 3 and Microsoft's Xbox 360.
"We're at a point now where technology has really opened up the field," says Ron Williams, the general manager of CDC Games US. "It opens everything up to people who wouldn't play normally. The trick is breaking down the barriers of entry," and improving what Mr. Williams calls "playability."
On Feb. 15, CDC launched an online computer game called "Lunia," which is available as a free download for Windows. Unusual for a massively multiplayer online role-playing game MMORPG in geek argot "Lunia" does
not require a thick user's manual to play. Movement is a matter of a few keyboard strokes, allowing gamers to quickly immerse themselves in a bright fantasy world.... More important, Williams says, "Lunia" can be played free of charge. (Gamers fork over money only if they want to purchase new items.) [Editor's note: The original version misrepresented the game-controlling mechanism.]
"That allows people who are curious to try it [to do so], without shelling out the membership costs" of more expensive competitors," Williams says. One immediate effect: an influx of women gamers, who are seen as hesitant to jump headfirst into an MMORPG. According to CDC US, in this regard "Lunia" has been a startling success, attracting thousands of female subscribers.
---