Six picks: recommendations from the Monitor staff
A crab-boat saga, Marvin Gaye on PBS, a LEGO-building website, and more.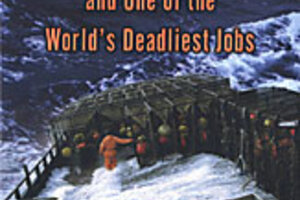 cowboys at sea
The brothers Hillstrand, our favorite captains from the Discovery Channel's hit "Deadliest Catch," traded crab pots for pens to reel off Time Bandit, a thoughtful memoir (named for their black-hulled boat) about their white-knuckled Bering Sea exploits.
bluegrass gold
The Punch Brothers, five hipster bluegrass chamber musicians headed by mandolin phenom Chris Thile of Nickel Creek fame, first reminded us of banjo virtuoso Bela Fleck sitting in (in a tux) with a string quartet years ago, playing chamber music. With their new CD, Punch, the Punch Brothers are much further out there. Thile has even written a complex 40-minute suite in four movements ("The Blind Leaving the Blind") that they played last year at Carnegie Hall.
sweet sounds
The late Motown legend Marvin Gaye struggled with emotional and creative demons his entire life, but during his heyday he transformed a genre and inspired generations of vocalists. See the performances, hear the music, and learn his story. Marvin Gaye: What's Going On airs on PBS Wednesday, May 7 at 9 p.m.
---