No escaping politics at L.A. exhibition of Mexican-American art
LACMA's rare display of art post the Chicano movement stresses themes of illegal immigration and discrimination.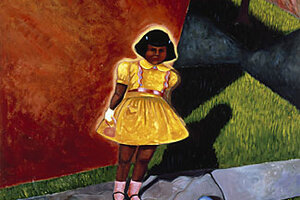 Courtesy of Patssi Valdez/Los Angeles County Museum of Art
Chicano art – indeed, the moniker Chicano to denote Mexican-Americans – was born more than three decades ago, amid the turmoil and social unrest of America's 1960s civil rights movements. Surprisingly, for a city whose demographic makeup now consists of a majority minority, it has been nearly that long since Los Angeles hosted a major art show devoted to the work of Chicano artists.
This past week, a new exhibition that examines a younger generation of Mexican-American artists. "Chicano Art: Phantom Sightings, Art after the Chicano Movement," opened at the Los Angeles County Museum of Art (LACMA). Organizers and artists alike see the show as an opportunity to bring what they see as a marginalized class of Americans into a national spotlight (the show tours to Mexico City, Guadalajara, Houston, and New York) at a moment when both presidential and immigration politics have put the country's relationship with its southern neighbor front-and-center on the national stage.
"When we were conceptualizing the show, the social and political moments were a bit more in the distance," says Rita Gonzalez, LACMA assistant curator for special exhibitions. "But as we started to install the show, things like the Barack Obama speech [about race] happened as well as the debate over the triple-border fence."
---